When is it finally time to replace old windows? We get it. Homeowners who are interested in maintaining the classic look of their homes are reluctant to opt for new windows. Older houses and fixer-uppers can be beautiful. They have that vintage charm. Some folks are not interested in replacing what isn't broken. It's true that with proper care, some elbow grease, and a bit of luck, old windows can last for a very long time. But, if you've been considering if it's finally time. It probably is. Need a reason to replace old windows? Keep reading.
REASON 1. Replacement is Easier
When a window cracks or the frame warps, some homeowners are inclined to try and fix up the damage or refrain from using the window for extended periods. Although the window might technically be functioning after a quick fix, it isn't necessarily working the way it should. Cracks and warps can cause drafts or let in moisture, even if you do your best to seal the gaps.
You can purchase and replace only a few old windows at a time. Replacing one broken window in your home doesn't mean that you have to do them all. Stop dealing with the frustration of foggy glass or windows that don't operate correctly.
REASON 2. New Windows don't cost as much as you think
Save money by purchasing new windows? What? If windows aren't broken, homeowners may choose to wait to upgrade their windows to save money on materials and installation. The reality is, you're already spending more money on energy bills with old windows that let in outside drafts. Is it challenging to keep your home warm in the winter and cool in the summer? Your windows might be forcing you to keep central heating or AC on for longer than you need it. Running air nonstop adds a lot of wear and tear to your heating/cooling system as well.
How's your air filtration rating? Harvey windows have some of the best air infiltration ratings in the industry.
ENERGY STAR certified products have helped American homeowners save $16 billion in their utility costs alone. If you are replacing old single-pane windows to ENERGY STAR-qualified products, you can save between $126 and $465 each year per their estimates. You can also take advantage of federal tax credits designed to help offset some of your costs. Before you replace old windows, check the ENERGY STAR website for updated promotions.
"Windows, doors, and skylights protect you from the elements just like a winter coat. But like a winter coat, you should pick the ones that make the most sense for your climate. While some are better at keeping you warm, others excel at keeping you cool." – ENERGY STAR suggests.



REASON 3. Improved Security
After years of wear and tear, windows degrade like anything else. The latches, in particular, can rust over time or become stripped and easy to break in through. An old window is a more accessible window to break in through.
New windows have extra secure latches and are sealed tighter than older windows. Sealants loosen over time and window frames warp. New windows mean a more secure home overall.
REASON 4. Great for Your Resale Value and Your Community
If you're selling your home, trading outdated windows for new ones can significantly increase its value. With viewings, it's all about the first impression. Buyers will notice a window in poor shape. If you've already upgraded the windows, buyers will see that as one less thing they have to do after purchasing the home. Attractive windows also enhance a home's curb appeal, and a unique fixture like a bay window or picture windows can be a significant selling point.
REASON 5. Old Regulations vs New Regulations
Most modern windows are vinyl and come in a variety of finishes. According to consumer reports, "Lead-based paint was banned after 1978 and is especially common in homes built before 1960. Single-­pane windows are a real concern because the friction of opening and closing the sashes can release lead dust and result in lead poisoning in children."
In some cases, you can strip old windows and repaint them, but the safest option is to replace them entirely. Not only does this remove the problem from your home, but you don't endanger yourself or a technician with lead-paint dust.
Modern Window for Historic Districts
However, many modern window fixtures mimic old styles. Harvey offers our majesty wood window series which has been approved in historic districts all around New England. Yes, New England, where you'll find some homes that were built in the 1800s or earlier. So, you can have a high functioning window with a classic look that enhances the functionality of your home, without sacrificing charm.

If it isn't broke
Sometimes a window that isn't "broken" might still be causing significant problems. For windows installed before 1980, we'd recommend that you get your windows inspected every-so-often. A professional will notice issues you won't. Here are five good reasons to bite the bullet and replace old windows.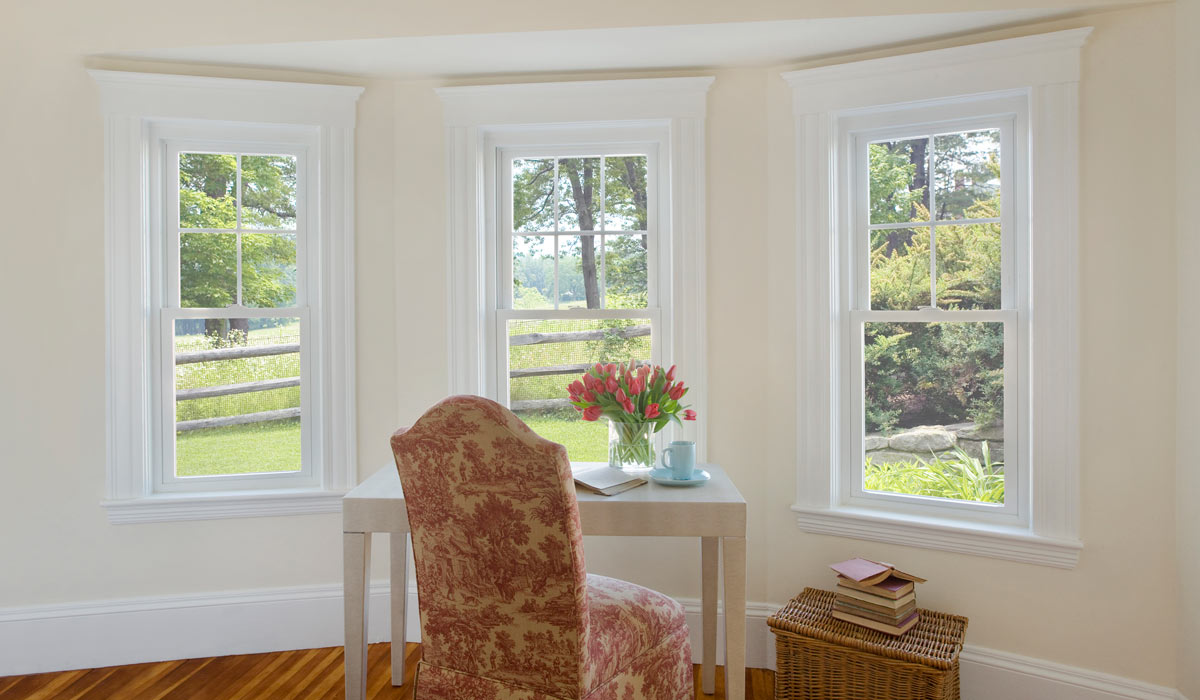 Are you still thinking?
Find your perfect match.