Screen Frames and Mesh
VIEWS (left) | Standard Screen Mesh (Right)
An often overlooked selection in the window buying process, the right screen can make a big difference when it comes to insect protection, durability, and of course, what a view looks like.
Innovative FlexScreens for Harvey Windows
This barely visible frame is almost completely hidden by the screen track, and its flexible construction makes it effortless to remove or install.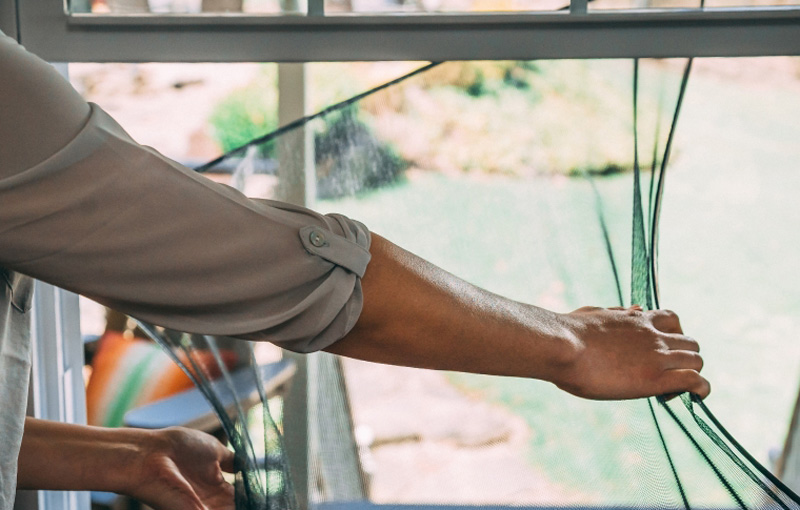 Durable: FlexScreen frames are phosphate enhanced spring steel coated with an exterior grade, high performance PVC which provides outstanding scratch and weather resistance.

Elegant: Without a bulky screen frame, FlexScreen disappears into the screen box of the window so there's less to get in way of the view. Plus, since FlexScreen's edges are hidden, there's no need to worry about matching a frame color to the window. Combine with VIEWS mesh for the clearest view.
Easy to Use: FlexScreen springs into an opening, making storing, installing and removing the screens easy.
FlexScreens can be taken in or out in 4 easy steps
Watch how to remove and install Full and Half FlexScreens on Harvey double hung windows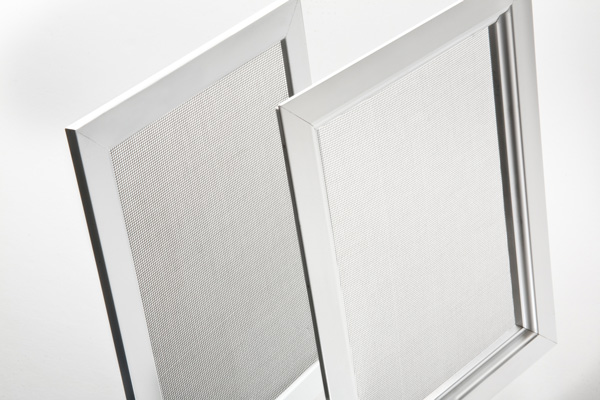 Extruded Aluminum Frame
Superior in strength to Roll Form frames, extruded aluminum frames are tough, sturdy and easy to remove and install, with hidden metal corners that won't become brittle over time as exposed plastic corners can.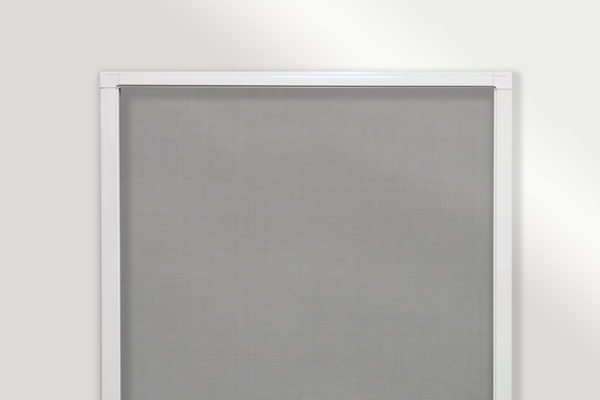 Aluminum Roll Form Frame
Aluminum Roll Form screens are a lightweight, value option available for certain windows only. Ideal for smaller window openings.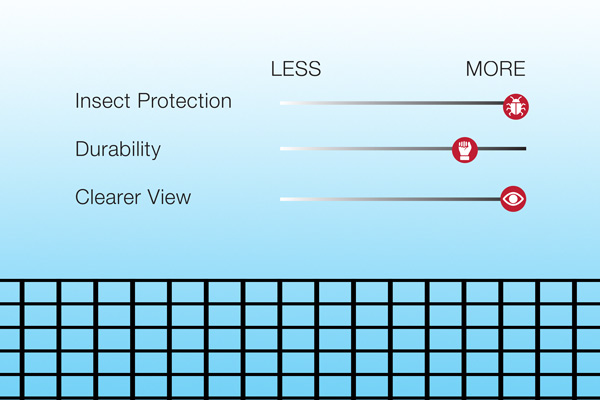 VIEWs Mesh
Upgrade to Virtually Invisible Screens, for a brighter view, 25% better airflow, and maximum protection against small insects.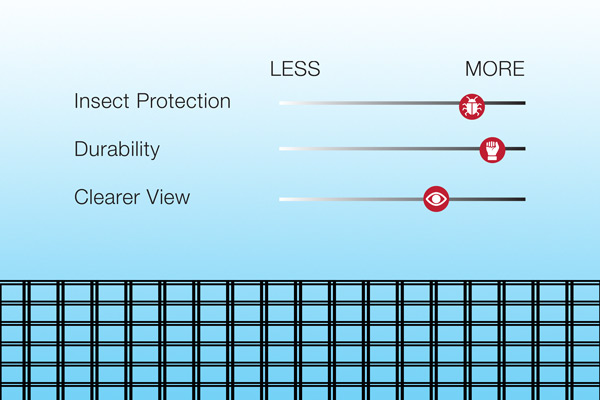 Fiberglass Mesh
A popular choice for its durability, fiberglass is flexible and does not crease, dent, or unravel.
Should You Choose Half Screens or Full Screens?
Here are some things to consider when finding the best fit for your new windows
Airflow & Insect Protection
---
Half Screen
Half screens only cover one sash of a double hung window at a time. They can be adjusted by sliding them up or down. So either the top or bottom is open at once, somewhat limiting airflow. Half screens that have been improperly placed may leave gaps, which could leave your window more susceptible to insects. However, using either half or full screens still provides protection from insects versus an unscreened open window.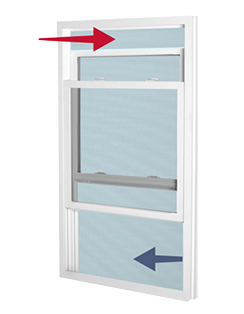 Full Screen
On a double hung window, full screens allow the top and bottom sash to be open at the same time. These screens allow maximum airflow through the window while still protecting from bugs. Air escapes out of the top opening and fresh air comes in through the bottom, providing excellent ventilation. Since full screens are stationary and aren't moved up and down the screen track depending on the sash open, nearly all gapping is prevented, minimizing the amount of pests which can pass through. For additional insect protection and the clearest view, choose premium VIEWS mesh.
Natural Sunlight
---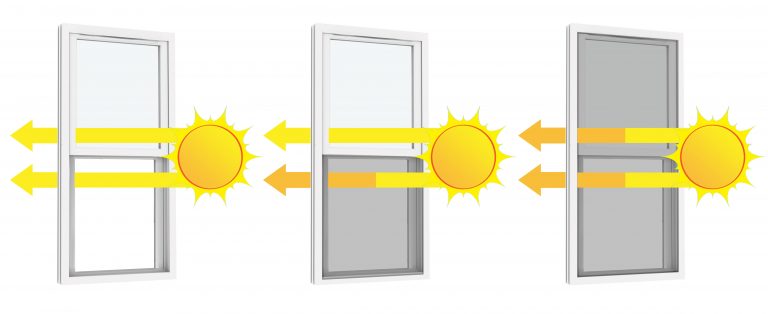 Half Screen
A half screen will let in more natural sunlight because it only covers half of the window. This feature also allows for a more unobstructed view from the half of the window not covered.
Full Screen
Full screens cover the entire window, slightly shading the sunlight coming in and your view out.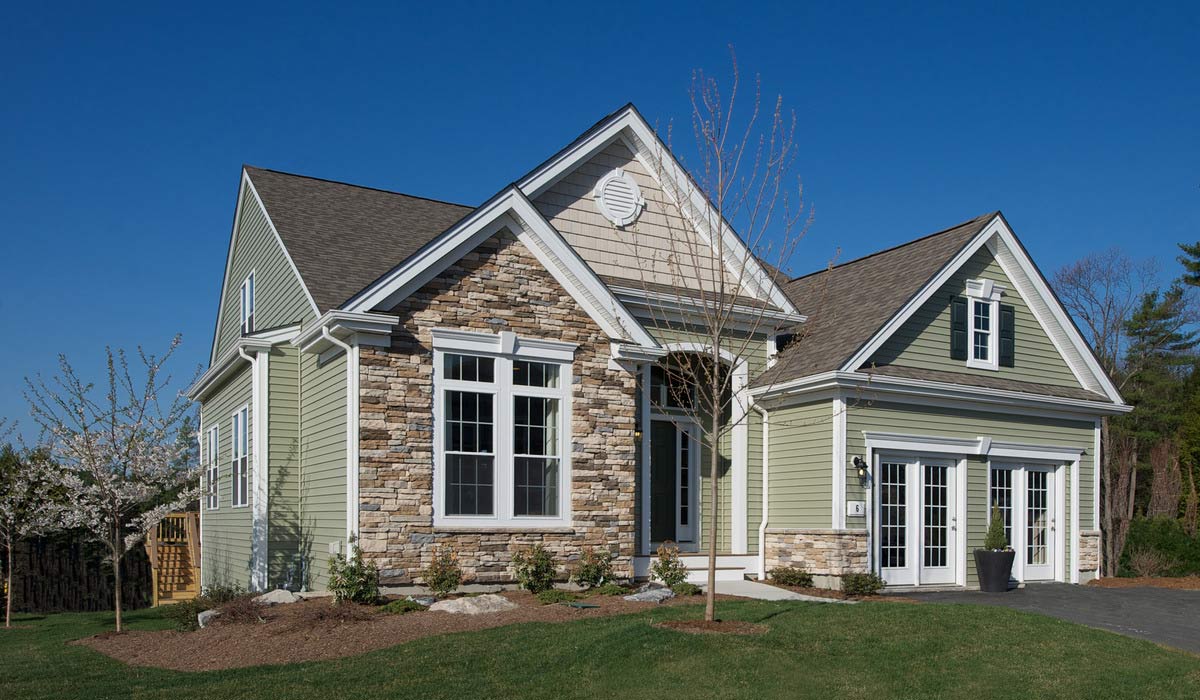 Made your Decision?
There is no one-solution-fits-all for when it comes to screens and it's just one decision to make in the window buying process. Size, window type, grid-style, interior color, and exterior color are all things to consider. Harvey has tons of customization options.